Catholics in Ranchi to reinter body of revered Father Camille Bulcke at local college.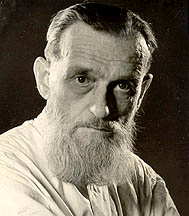 New Delhi:March 12, 2018
Indian Jesuits are moving the remains of a popular Belgian missioner from New Delhi to his former base in Ranchi following a request to have a memorial to him in the eastern city, where he spent most of his life.
The body of Jesuit Father Camille Bulcke was exhumed on March 5 to be taken to and reburied in the capital of Jharkhand state.
The move follows two years of discussions to take the remains to Ranchi, where the missioner is revered for his contributions to education among indigenous people, the Hindi language and local culture, said Jesuit Father Joseph Marianus Kujur, provincial of Ranchi Province.
Father Bulcke died in New Delhi in 1982 and was buried in the capital for practical reasons, Father Kujur told ucanews.com.
However, Catholics, including Jesuits have wanted to move the remains to Ranchi so his admirers can have a memorial to pay their respects on his birth and death anniversaries, Father Kujur said.
His remains will be buried on March 14 on St. Xavier's College's campus, where he was head of the Hindi and Sanskrit department.
The Belgian, who arrived in India in 1934, became an Indian citizen in 1951 and studied Indian languages, obtaining a master's in Sanskrit and a doctorate Hindi literature. He translated the Bible to Hindi besides teaching the language in colleges.
The Indian government, in 1974, conferred on him the Padma Bhushan, the country's third highest civilian award.
"It is a wonderful thing to bring back the mortal remains of a saintly priest who lived and died for the nation," said Sanjay Basu Mallick, a social worker, who knew the priest personally.
Father Bulcke "inspired me and thousands like me to be proud of our local culture and language."
Source: UCAN